Due to the ongoing Great Depression, Hobart J. Thurber, Sr. was let go from his sales position at a Chicago area ingredient manufacturer in 1933. He guessed correctly that other ingredient companies faced with a slowdown in business would welcome the chance to fix their sales costs by hiring an independent sales organization. Thus was born the Hobart J. Thurber Company, the oldest manufacturer's representatives of Food Ingredients in the Midwest.
Starting with Chocolate and Cocoa Powder, Hobart J. Thurber, Sr. branched out with Fruit, Dairy, and Flavoring Ingredients sold primarily to the Candy Industry. He, together with two others formed the Candy Production Club of Chicago in the basement of his Evanston, IL home. The club remains active to this day.
After serving in the Navy during World War II, Hobart J. Thurber, Jr., joined the firm and was instrumental in broadening product lines to include Flour, Nutmeats, and Peanut Butter, while expanding territories to include Wisconsin and Indiana.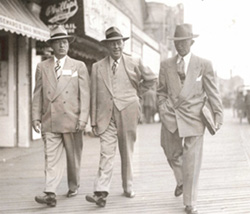 In 1933, Hobart J. Thurber, Sr. (center) opens the first industrial ingredients brokerage company in Chicago.
He also served as President of the Candy Production Club of Chicago and it was his idea to use Peanut Butter as an ingredient in dry cereals.
Scott J. Thurber joined the company in 1972 and Craig J. Thurber joined in 1975, representing a 3rd generation in the business. The company's product lines continued to expand by including ingredients such as Lecithins, Food Grade Chemicals, and Vegetable Oils. In 1986, this 3rd generation took over active management of the company.
2010 saw the 4th generation of Thurber's to enter the business with Brian joining the team. Bringing fresh ideas and techniques he is excited to follow in the traditions of excellence that the Thurber Company has been built and run on for over 80 years!