Craig Thurber
Principal of the company, Craig joined in 1975 after 2 years with a Fortune 500 company.  With over 40 years experience, he is a 3 time elected officer of the Chicago Section of Institute of Food Technology (IFT), a member of American Association of Candy Technologists (AACT), past President of the FIND Group, a nationwide food ingredient sales network organization and has presided over the recent growth of the company.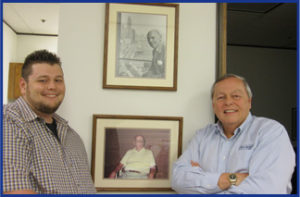 Brian Thurber
After joining the business in 2010, Brian became the fourth generation of Thurber's to join the company.  He is active with Chicago Section IFT, particularly the IFT New Professionals Group. Brian is the first fourth generation member of the Candy Production Club of Chicago. He looks forward to living up to the expectations and traditions that have made the Thurber Company what it is today
Maria Caponigri
Maria joined Thurber in 2018 as Sales Account Manager with industry experience in product development, innovation, consulting and technical ingredient sales.  Maria has a BS in Food Science Nutrition from Dominican University, Culinary Arts Certificate and is aiming towards an MBA in Business. She has strong ingredient knowledge and always strives to find solutions for her customers.  Maria is an active member with IFT, CSIFT, and Food Executive Women and is passionate about cooking, baking, culinary trends, alternative medicine and natural health remedies.
Laura Lee Hanson
After several years of working as a bookkeeper, sales and customer service, Laura joined The Thurber Company in January of 2017 as the Office Manager. Laura believes that providing the most efficient and personal customer service will ensure years of trust and confidence with our customers. Laura has a special interest in non-gmo, gluten free and organic foods.